Today I experienced another snow day, a product of the southern inability to handle half an inch of snow. Looking out my window this afternoon I can barely see any remnants of the snow that cancelled school in the first place, but I will never argue with a reason to cancel school. This much needed break was, well, much needed.
Ironically, I spent much of today doing homework that was due today because life. Life is an excuse for everything.
Also, I had every intention for writing a spirited post on women, but this picture filled post has been sitting in my drafts folder wordless for a while. Today I have decided to give it some words. I hope you enjoy my little digitalized scrapbook.
My ENO was quite possibly the best investment of my life. I've read a lot of books and done a lot homework in this little portable hammock. The recent single digit temperature days seem to be limiting my ENO opportunities, but mother nature occasionally slips in a few warm days for me and my fellow ENO lovers to enjoy.
The above photo is the product of Galentines Days. Galentines Day is to be celebrated the day before Valentines day with all your girlfriends independent of any relationships they may or may not be in.
The holiday was coined by fellow breakfast and government lover Leslie Knope from my favorite TV show Parks and Rec (I'm finding that I mention this show all too often, but I have no regrets). Tonight actually marks the premiere of the final episode ever of Parks and Recreation.
I'm having an emotional time coming to terms with this if we're being real.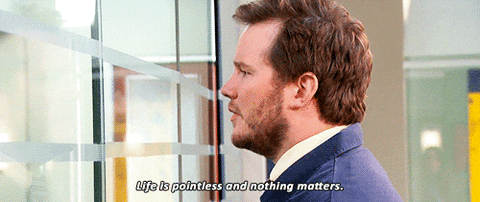 But that's enough depressing gifs. Parks and Rec ending is taking quite a toll on me but with all this calculus and US history homework, I have no other option but to go on.
Godspeed everyone, Godspeed.
To lighten things up a bit, I bring to you pictures of my cat in a bow tie.
After a recent and glorious discovery at my local Goodwill, my cat is now the owner of a $1 bow tie. It is one of the best purchases of my life, although I'm not sure my cat would agree. Jake isn't necessarily enjoying the thing being strapped to his neck, but I informed him that sometimes we must make sacrifices for fashion.
And of course, a sunset for the blog's namesake.
Before the end of this short month, I promise you a post on more important things than simply my life, but still, I hope you enjoy these simple and easy posts. They will make writing my memoir so much more easier (after I become a Supreme Court Justice of course).
Until then, have a fabulous day.